Weekly Market Commentary – 7/7/2023
-Darren Leavitt, CFA
The holiday-shortened week was discombobulated, to say the least. Trading desks on Wall Street were lightly staffed despite a full economic data calendar.   The start of the third quarter ushered in equity and US Treasury losses. The first half of the year saw decent gains, and there is a feeling that the market has run up too much, and a pullback is warranted. The United States and China relations started the week with more restrictions on trade. Specifically, China said it would limit the export of certain rare earth metals, including Gallium and Germanium. The US announced that it would restrict China's access to Cloud computing. The news came before Treasury Secretary Janet Yellen's visit to China. The visit appears to have produced constructive dialogue that may promote a better market open on Monday.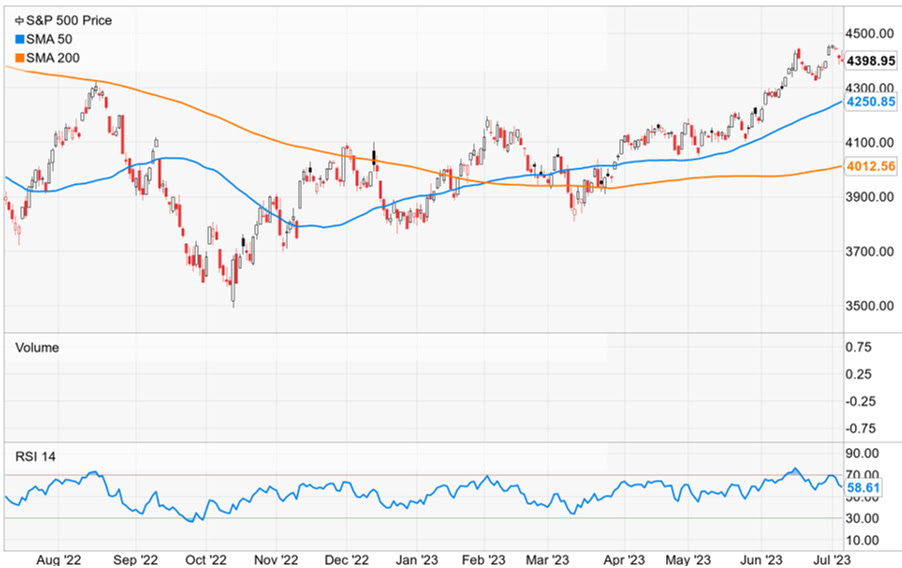 The S&P 500 lost 1.3%, the Dow led declines with a loss of 2%, the NASDAQ fell 1.2%, and the Russell 2000 gave back 1.3%. US Treasuries struggled as the likelihood of a July rate hike surged to almost a certainty, while the prospect of another in September and November also increased. The 2-year yield traded above 5% on Thursday before falling back to 4.94% on Friday but rose six basis points for the week. The 10-yield eclipsed 4%, increasing twenty-three basis points on the week to close at 4.05%.
Oil prices surged 4.5% to close at $73.85 a barrel. Gold prices increased by $4.80 to 1933.70 an Oz.  Copper prices traded higher by $0.02 to close at $3.78 a Lb. The US Dollar weakened over the week, and Bitcoin traded flat to close at $30,223.
Economic data highlighted an impressive US labor market. ADP figures showed that payrolls had increased by 497k versus the street consensus of 245K. This strong report was accompanied by an ISM Services print that showed the services sector of the economy expanding more than anticipated. ISM Services increased by 53.9 vs. an expected 51.1. However, Manufacturing continued to contract further, coming in at 46, down from the prior reading of 46.9. Of note, China and Eurozone ISM Services figures missed to the downside. The Employment Situation Report released on Friday painted a little bit different picture. Payrolls were less robust than expected, while average hours worked increased. Non-Farm Payrolls increased by 209K versus the consensus estimate of 220K, while private Payrolls increased by 149k vs. 210k. The Unemployment rate ticked lower to 3.6% from 3.7%, and average hourly earnings increased by 0.4%, slightly ahead of the 0.3% expected. Average hourly earnings were up 4.4% on a year-over-year basis.
Investment advisory services offered through Foundations Investment Advisors, LLC ("FIA"), an SEC registered investment adviser. FIA's Darren Leavitt authors this commentary which may include information and statistical data obtained from and/or prepared by third party sources that FIA deems reliable but in no way does FIA guarantee the accuracy or completeness.  All such third party information and statistical data contained herein is subject to change without notice.  Nothing herein constitutes legal, tax or investment advice or any recommendation that any security, portfolio of securities, or investment strategy is suitable for any specific person.  Personal investment advice can only be rendered after the engagement of FIA for services, execution of required documentation, including receipt of required disclosures.  All investments involve risk and past performance is no guarantee of future results. For registration information on FIA, please go to https://adviserinfo.sec.gov/ and search by our firm name or by our CRD #175083. Advisory services are only offered to clients or prospective clients where FIA and its representatives are properly licensed or exempted.